---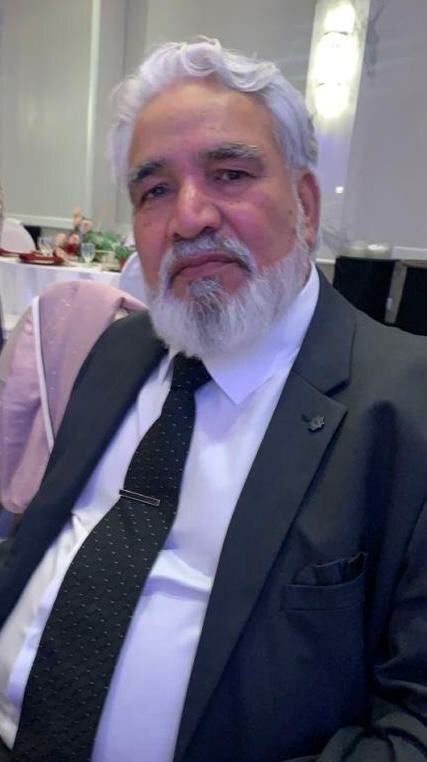 Obituary of Imtiaz Ahmed
We are sad to announce the demise of Respected Imtiaz
Ahmed Jajja Sahib of Vaughan Jama'at, who passed away
on June 15, 2022 at the age of 65.
Inna lillahi wa inna ilaihi raji'oon
He was the son of Respected Muhammad Khan Jajja Sahib of
Uccha Jajja in Sialkot.
Respected Imtiaz Ahmed Sahib possessed a deep rooted love
for God and was a Muttaqi. He spent a lifetime in devotion to
Ahmadiyyat and possessed a profound love for Khilafat. He was
regular in offering the five daily prayers, recitation of the Holy
Qur'an and was regular in offering his Chanda.
He always showed a great deal of humility in all his interactions
with others and had the powerful quality of bringing a smile to
the face of everyone he met. He was passionate about the
pursuit of both secular and spiritual knowledge as well as
attaining an education, obtaining a Masters in Applied
Chemistry. He instilled this same quality in his children.
May Allah the Almighty grant Respected Imtiaz Ahmed Jajja
Sahib forgiveness and mercy and elevate his station is Paradise.
May Allah grant the family patience and strength to bear this
loss.
Close Relatives:
Hamda Chaudhry: Wife
Faizan Faraz Ahmed: Son
Shamon Sheraz Ahmed: Son
Saadia Ahmed: Daughter
Jazib Ahmed: Son
Riaz Ahmed Jajja: Brother
Nabi Ahmed Jajja: Brother
Ijaz Jajja: Brother
Asif Jajja: Brother
Zareena Jajja: Sister
Farhat Imtiaz: Daughter-in-Law
Aziza Azizi: Daughter-in-Law
Viewing
7:00 pm - 9:00 pm
Thursday, June 16, 2022
Bait'ul Hamd Mosque
1194 Matheson Blvd., East
Mississauga, Ontario, Canada
Funeral Prayers
9:15 pm
Thursday, June 16, 2022
Bait'ul Hamd Mosque
1194 Matheson Blvd., East
Mississauga, Ontario, Canada
Share Your Memory of
Imtiaz
who we are:

The Ahmadiyya Muslim Jama`at Funeral Service is a community run service that caters to the needs of the Ahmadiyya Jama`at in the GTA. If you want to learn more about the Ahmadiyya Muslim Jama`at please visit our official website at www.alislam.org

Contact Us

Phone: 905-206-1605
Fax: 905-206-1144
Emergency: (647) 400-8169
Email: funeral.services@ahmadiyya.ca
location

1194 Matheson Blvd. East
Mississauga, ON L4W 1R2

Quick links