---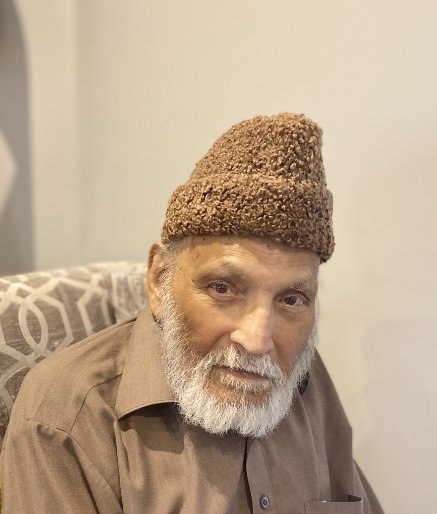 Obituary of Mohammad Aslam Chaudhary
Please share a memory of Mohammad Aslam to include in a keepsake book for family and friends.
We are sad to announce the demise of Respected Mohammad Aslam Chaudhary Sahib of Toronto West Jama'at,, who passed away on November 2, 2020 at the age of 91 Years.
... Surely, to Allah we belong and to Him shall we return. [2:157]
Details are as follows:
Viewing
Tuesday, November 3, 2020 from 11:45AM to 12:50PM
Address: Baitul Hamd Mosque. 1194 Matheson Blvd. East, Mississauga ON
Funeral Prayers
Tuesday, November 3, 2020 at 12:50PM
Address: Baitul Hamd Mosque. 1194 Matheson Blvd. East, Mississauga ON
Burial
Tuesday, November 3, 2020 at 02:15PM
Address: Maple Cemetery. 2000 Major MacKenzie Dr W, Maple, ON L6A 0A9
Muhammed Aslam Chaudhary was born in January 1929 in Gujranwala India He completed his MSC from Government collage Lahore and joined Navy in 1965. He had the honour of serving Pakistan navy very meticulously after his retirement from navy he came to Canada in 1992 and met Naseem Mehdi Sahib and Mubarik Nazeer Sahib. After that meeting, he decided to do Waqf-e-Arzi. His request for Waqf-e-Arzi was graciously accepted by Hazrat Khalifatul Masih IV in 1992 and he moved to Toronto to serve in the Mission House. After just a year of Qaqaf-e-Arzi, his request for Waqf-e-Zindagi was also accepted by Hazrat Khalifatul Masih IV which blessed him with an opportunity to serve the Jamaat for almost 28 years.
He served the Canada jamaat in Toronto in various roles and capacities which are as follows:
• Member National Majlis-e-Amla Canada: He served as National Secretary Properties for 4 years and National Secretary Rishta Nata for 6 years. As a National Secretary Properties, he was involved in the acquisition and setup of School and Mission House in Vancouver, Saskatoon Mission House, Baitul Haneef in Toronto East, Hamilton Mission House, and Montreal Mission House
• Additional Secretary Mission House
• Homeopathy Clinic
• Qaid Tajneed, Majlis-e-Ansarullah
• Rukne Khasoosi, Majlis-e-Ansarullah
• Assistant to Registrar of Marriages
He exemplified the true meaning of being a "waqaf-e-zindagi" as the purpose of his life became serving the Jamaat and carrying out his duties in the Mission House. He touched everyone he met with his kindness, empathy, compassion and a sense of service to others. His last visit to his office in Tahir Hall was in March and he felt a loss of purpose in life as he was unable to go to the Mission House due to the lockdown.
He was a loving father and an exemplary husband with a deep love for Khilafat and always reminded us to keep dedicated to the Nizam-e-Jamaat, perform our prayers, pay our dues and provide services to humanity and mankind. May Allah grant Maghfirat to the deceased and elevate his spiritual status in heaven! Amen! May Allah also shower His mercy upon the grieved family and give them solace and fortitude and enable them to bear this loss with patience! Amen!
In the prevailing situation, as per government regulations, please maintain at least 6ft. of physical distance and avoid hand shake and physical embracing.
Wassalam!
Close relatives of the deceased are as follows:
Asifa Begum Sahiba Wife
Masaf Dawood Sahib Son
Wadood Chaudhary Sahib Son
Maud Chaudhary Sahib Son
Dr Zakariya Tahir Sahib Brother
Donation:
If you wish to donate for AMJ Funeral Services, please click following link:
http://amjinc.ca/donation.html
*(Kindly donate under the head of Mississauga Funeral Home which can be turned on by clicking on "Add Donation" option on the website. If you are not a member of Ahmadiyya Muslim Jama'at kindly mention the member code as 999.)
Thank You.
Share Your Memory of
Mohammad Aslam
who we are:

The Ahmadiyya Muslim Jama`at Funeral Service is a community run service that caters to the needs of the Ahmadiyya Jama`at in the GTA. If you want to learn more about the Ahmadiyya Muslim Jama`at please visit our official website at www.alislam.org

Contact Us

Phone: 905-206-1605
Fax: 905-206-1144
Emergency: (647) 400-8169
Email: funeral.services@ahmadiyya.ca
location

1194 Matheson Blvd. East
Mississauga, ON L4W 1R2

Quick links