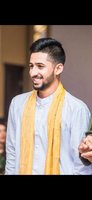 Sheraz Ahmed
We are sad to announce the demise of Respected Sheraz Ahmad Sahib of Brampton East Imara'at, who passed away on October 21, 2019 at the age of 19 years.
... Surely, to Allah we belong and to Him shall we return. [2:157]
Details are as follows:
Viewing
Wednesday, October 23, 2019 From 4:00PM to 5:45PM
Address: Baitul Hamd Mosque. 1194 Matheson Blvd. East, Mississauga ON
Funeral Prayers
Wednesday, October 23, 2019 Right After Maghrib Prayer At 6:40PM
Address: Baitul Islam Mosque, 10610 Jane Street. Maple, ON
Burial
Thursday, October 24, 2019 At 11:00AM
Address: Nashville Cemetery 10445 Huntington Rd, Nashville, ON
Respected Sheraz Ahmad Sahib was son of Imran Mohammad Sahib and Asma Ahmad Sahiba. He was a young dedicated Khaddim who actively participated in Jama'at programs. He was co-captain of his Basketball team in ABL. He served Jama'at in various capacities including Nazim Sehat-e-Jismani of Khuddam-ul-Ahmaddiya Castlemore East Majlis. He always contributed in financial sacrifices and donated generously.
He had a deep love of Khilafat and was regular in daily prayers. May Allah grant Maghfirat to the deceased and elevate his spiritual status in the heaven! Amen! May Allah also shower His mercy upon the grieved families and give them solace and fortitude and enable them to bear this loss with patience! Amen!
Close relatives of the deceased are as follows:
Imran Mohammad Sahib Father
Asma Ahmed Sahiba Mother
Fraz Ahmad Sahib Brother
Khulat Ahmad Sahiba Sister
Meenal Ahmad Sahiba Sister
Musharaf Nasir Choudhury Sahib Uncle
Waqas Yaqoob Sahib Uncle